Secure, On-Site and Off-Site Data Destruction and Hard Drive Shredding Services
PowerIT offers a wide-range of data destruction services and solutions to ensure your data stays protected.
Contact a PowerIT solutions engineer to learn more about our data destruction services.
When your data and confidential information is constantly under threat, how do you ensure security and protect your business when your equipment is ready to retire?
The only way to fully guarantee the data on your old equipment is 100% destroyed is through physical destruction. If you've disposed of hard drives before by way of reformatting, erasing or degaussing, then in fact, your data (and that of your customers) data is still at risk of being retrieved as long as the drives remain physically intact.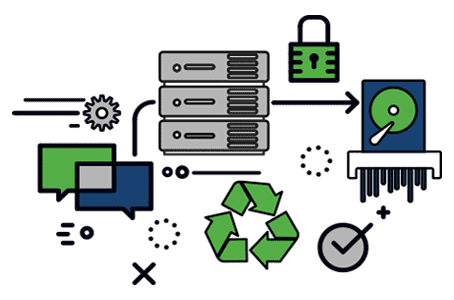 Data Destruction Services and IT Asset Disposition
No matter the size of your decommissioning project, PowerIT can help ensure that your data remains safe when disposing of retired assets. We offer several secure, on-site destruction services for all types of devices, including magnetic and solid-slate drives.

Large Volume Hard Drive Shredding

Hard Drive Crushing and Shredding

Lockable Bins for Hard Drive Disposal

Electronic Recycling

Destruction Certificates

Paper Shredding Services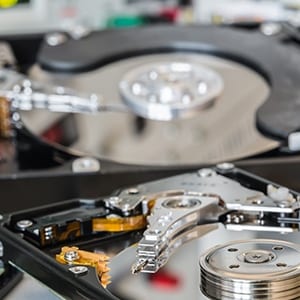 Why Choose PowerIT for Data Destruction?
We make data destruction and hard drive shredding simple and convenient, helping you to remain in compliance with data privacy laws. Our process includes removing the hard drives and safely destroying them by shredding them on NAID compliant shredders.
Our destruction services create an unbroken chain-of-custody that guarantees compliance with verifiable proof of secure data destruction.
NAID Certified

Secure Chain-of-Command

Client-Witnessed Onsite Shredding

Eco-friendly Disposal Options

Certificate of Destruction After Service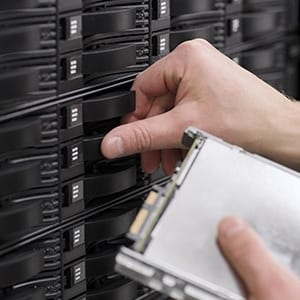 HAVE A POWER MANAGEMENT QUESTION?
PowerIT, USA strives to provide the most reliable cable and power solutions for high-performing operations. Let us help you design the optimal MDF or IDF with our certified engineers.