UPS Battery Disposal, Replacement & Removal
Help protect the environment and remain in compliance by disposing of your equipment safely and properly.
Contact a PowerIT solutions engineer to learn more about our disposal services for UPS systems and batteries.
It's your responsibility to know where your UPS systems and batteries are going, and federal regulations permit that you properly dispose of batteries and other power-related equipment.
PowerIT offers battery removal and disposal services so you can rest assured your equipment is destroyed securely. Don't risk hefty fines for failing to properly dispose of your equipment by letting them stack up in your IT closet. 
Our team of trained engineers provide:
Convenient UPS system and battery pickup, on or off premises

Proper disposal and recycling per state law, HIPAA, EPA standards and regulations

Certificate of Destruction (COD) and asset tagging which lists all disposed equipment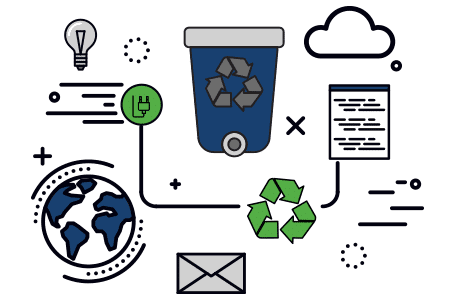 Federal regulations mandate that you properly dispose of batteries and other power-related equipment.

To ensure the reliability of your UPS systems, it's important that you test UPS batteries and replace them when needed.

Like all other electronics, UPS batteries have a given life expectancy, and there is much more to UPS than just battery back-ups.
HAVE A POWER MANAGEMENT QUESTION?
PowerIT, USA strives to provide the most reliable cable and power solutions for high-performing operations. Let us help you design the optimal MDF or IDF with our certified engineers.